An advanced risk management and portfolio construction tool for global fixed income portfolios.
Today, economic and political factors that affect one country may affect multiple countries. This is true of financial markets in general, and the fixed income markets are no exception. This makes it increasingly difficult for portfolio managers to effectively diversify their risk. Fortunately, there is a portfolio construction and risk management system that helps to simplify the complexities of fixed income investing.
The Barra Cosmos System helps you forecast and analyze your portfolio risk, simulate and stress test portfolios based on your view of expected market conditions, and construct optimal multi-currency, global fixed income portfolios based on your portfolio and mandate constraints.
With extensive coverage of over 45 local markets, Cosmos allows you to integrate your bond, derivative, and currency strategies across both developed and emerging markets.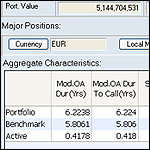 Barra Cosmos
Global Risk Manager
Cosmos provides you with insight into local interest rate, spread, and currency risk factors and the correlations between them, allowing you to identify and understand the sources of risk within your portfolio. The system's risk decomposition capability lets you structure, monitor and modify the risk profile of your portfolio so that you can better align it with your intended strategy.
With integrated Scenario and Optimization capabilities, you can assess risk/return tradeoffs over any horizon based on your forecast of future market conditions. This gives you the flexibility to analyze the impact of potential asset trades or rebalancing decisions, or to build optimal portfolios based on your universe of investments and your desired expected risk/return profile.
Time-saving API (Application Programming Interface) capabilities support the integration of Cosmos into your existing investment processes and tools, and automate common tasks such as importing portfolios and exporting reports.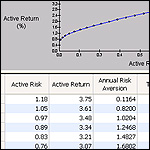 Barra Cosmos
Optimizer
The Barra Cosmos System can help you to:
Make more informed investment decisions by understanding the detailed sources of risk in multi-currency, global fixed income portfolios.
Incorporate your own unique investment style by allowing you to implement tailored bond, derivatives, and currency strategies.
Stress test portfolios and calculate expected returns using your views on term structures, credit spreads, and other market conditions.
Create optimal portfolios that reflect your desired risk/return tradeoffs, mandate constraints, and other parameters.
To find out more about how the Barra Cosmos System can be used within your fixed income investment process, please contact us.